What Is A "Pro Chef's Kitchen Design?"
Who really needs a pro chef's kitchen?
To us, it's anyone who seriously loves to cook.
Here at Drury Design, our job is to bring out the pro chef in avid home cooks. Whether you earned your culinary degree from Cordon Blue or you learned how to roll out ravioli with your grandmother, to us you've taken lessons from a master chef.
While we've had the honor of designing kitchens for professional chefs, most of the cooks we design for are passionate foodies or homeowners who love to entertain. Our clients love to create everything from gourmet holiday feasts to every day after school classics like chocolate chip cookies and macaroni and cheese.
So, what makes a home kitchen a "pro chef's kitchen"?
Logical Layout
If you've ever watched a cooking show, you know pro chefs are all about efficiency. As they take you through recipes step by step, they don't move very much – unless they're on Iron Chef Gauntlet.
More than one chef requires more space. We like designing kitchens with room for at least two chefs, which may mean two work triangles or dedicated stations for prep or pastry. The kitchen doesn't have to be huge, but the layout does have to be functional and smart for the chef and their guests.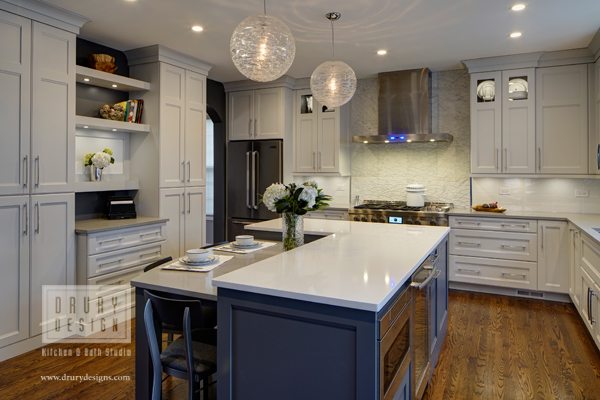 If you like to interact with your audience, you'll want them to have seats where they can see you work. You can invite them to join you in the fun of chopping, stirring and cleaning up. That's where the island comes in. The galley sink, a new feature that can be up to seven feet long, is a multi-purpose prep center that can easily transition to a serving station when it's show time. Interested in seeing more of the Galley Sink? View Arlington Heights Transitional Kitchen Remodel.
High-Performance Appliances
Did you know Drury Design is an authorized dealer for leading manufacturers like Sub-Zero, Wolf, Viking, Thermador, Dacor, Fisher & Paykel, Miele, and Bosch? We partner with these companies very closely and our designers are experts in the latest technology on the market. Sub-Zero Wolf honored our work with a kitchen design award. Read more about chef's kitchen appliance innovations here.
Project Feature: Professional Chef's Kitchen Design
Featured as one of Trends Magazine's top 50 American Kitchens, this kitchen was part of a complete west suburban home remodel. The redesigned space was modernized with professional cooking equipment, plenty of counter space and a hidden fridge in the pantry area. A single, wide island has enough space for two cooks, with a deep, single bowl apron front sink. It also has room for guests to gather without interfering with the cook's domain. Existing wood floors got an update with a medium dark stain for a natural-looking contrast and consistent flow from room to room.
Also, see Multi-Functional Transitional Hinsdale Kitchen to see another kitchen designed for a professional chef.
Getting Started with Your Chef's Kitchen Design
If you're ready to realize your dream of cooking in your very own chef's kitchen, we invite you to visit our gallery on Houzz.com to explore ideas. You can also stop by the studio anytime to test out layouts. Remember, our in-home consultations are always free. Call us at 888.444.1055 to get started.