Bathroom Color Schemes: A Guide
A Guide to Selecting Your Bathroom Color Scheme
Bathrooms can be one of the most challenging rooms to overhaul. Renovating them can not only put a strain on your time and budget, but it puts the room out of commission while the work's being done. No one wants to renovate their bathroom more often than necessary, and for this reason many people are afraid to use color — what happens if the colors you choose fall out of favor and affect the value of your house? But white isn't the only way to downplay the risk, we want to help you brainstorm color ideas for your remodel. Here are some of our favorite combinations that will always be winners.
Black and white. This is a classic combo that became ultra-popular during the Art Deco period of the 1920s and '30s. Bold black and white geometric shapes on floors and walls have stood the test of time. Use checkerboard tiles, chrome fixtures and silver-framed mirrors and you'll have a look that's as stylish now as it was then.
Do: Jazz it up with some bold towels and accessories.
Don't: Make it too busy or fussy.

Aqua, chocolate and white. This combination is a nice balance between traditional and contemporary. Use aqua and white to make the room feel cool and airy, then add a deep chocolate vanity and beige flooring for warmth. If you're going for a spa-like feel, this combo is a classic. Add aqua and white towels for extra luxury.
Do: Check the positioning of the lighting to ensure it doesn't throw unflattering blue-green light on your skin.
Don't: Use too much chocolate. Overindulgence is never a good thing.
Mocha and creamy white. Mocha tones make this bathroom warm and inviting. Start your color palette with one shade of mocha and a creamy white, then layer with various espresso-inspired shades to create some movement and depth. Just remember that darker shades advance and lighter shades recede. Use blocks of color to highlight areas such as the bathtub to provide interest and direction within the room.
Do: Use a standout dark tone such as the one under this bathtub to ground and unite the color scheme.
Don't: Add any bold or bright colors. They won't work with this more subdued aesthetic.
Monochromatic grays. To create a clean and simple look, add various shades of gray to keep your bathroom flowing and to provide depth and orientation. Add some fresh flowers or a lush and leafy potted plant and you'll create a beautiful, classic environment.
Carrara marble was first used in ancient Rome and has featured on many notable monuments and buildings ever since. The gray and white veining of the marble gives any bathroom a luxe look.
Do: Go for a quartz product offering a similar look if Carrara marble is out of your price range.
Don't: Use gray if you find it depressing rather than soothing or uplifting.
Bold complementary colors. In color theory, this scheme just works. A pair of complementary colors (those that sit opposite each other on the color wheel, such as blue and orange or red and green) works well alongside another set of complementary colors. The result is called a double complementary color scheme.
Add black and white to bring the colors into balance and you'll create a bathroom with wow factor. This combo is not for the faint-hearted but, if executed correctly, it will definitely go the distance.
Do: Be strategic with the placement of color to ensure the scheme is cohesive.
Don't: Use this color combo if you don't love it wholeheartedly — it won't become outdated, but you might get sick of it.
Creams and whites. Bathrooms weren't traditionally very colorful spaces; they didn't tend to draw attention in the decor and color scheming. If you bathroom is a traditional style, you might enjoy keeping the colors pretty neutral. This look is not only fresh, but it's also light and bright as well.
Do: Be aware that whites and creams may be more difficult to keep clean.
Don't: Be afraid of incorporating pops of color with accessories, interchangeable decor such as a shower curtain, a geometric tile floor, or wall tile.
Wood. Don't normally think of bathroom color schemes centering around wood? Think again! This sauna-like bathroom design can be both modern and inviting. You can streamline the look by incorporating various shapes and textures of wooden elements. Wooden shelves and small white planters can give the shower room a woodsy feel that is sure to nourish the soul.
Do: Be strategic in choosing which wood elements you want to include.
Don't: Add too a lot of bright color into the mix, especially if you're going for a spa-like atmosphere.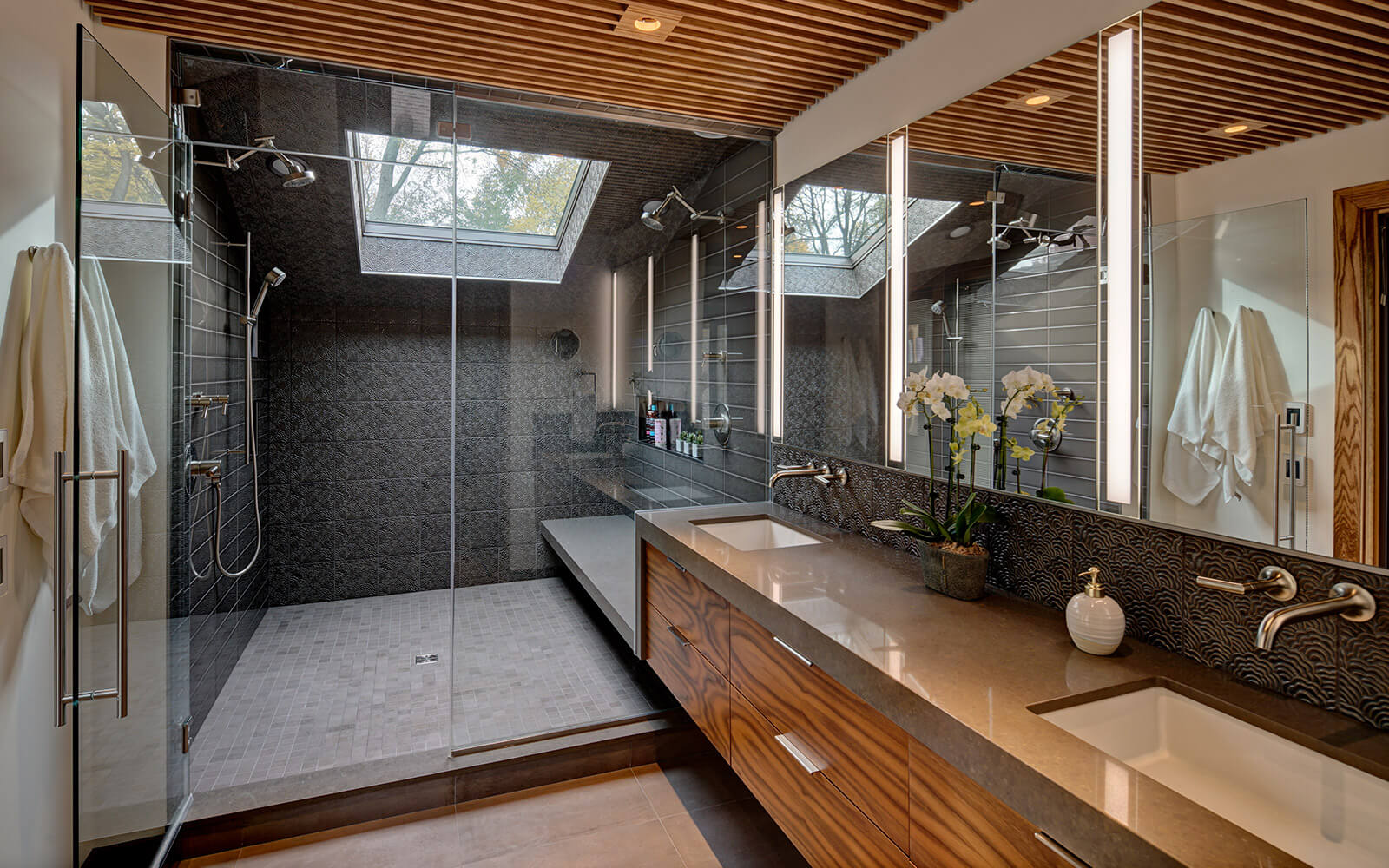 Drury Design can help you transform your bathroom, whether that be a small powder room or a large master bath, with the color combination that is perfect for your house and lifestyle. 
Choosing all the elements for your remodel can be a daunting process but with the help of professional designers, your choices will be educated, and your bathroom will be beautiful and functional. With over 30 years of interior design experience, you'll be in good hands. We'd love to send one of our qualified designers to your home and start exploring options with you! Contact us HERE or chat with us below to find out more.
About Drury Design Kitchen and Bath Studio
Founded by Gail Drury, CMKBD in 1987, Drury Design's Client Focused Design™ approach integrates design recommendations, materials selection, and construction management into one seamless customer design, project management, and build experience. For kitchen, bath, and home remodeling ideas view Drury Design's design portfolio or stop by the studio at 512 N. Main Street in downtown Glen Ellyn, Illinois.