Dealing with Construction: Tips and Tricks for a Less Stressful Kitchen Remodel
<!-- Go to www.addthis.com/dashboard to customize your tools --><!-- [et_pb_line_break_holder] --></p><!-- [et_pb_line_break_holder] --><div class="addthis_inline_share_toolbox"></div><!-- [et_pb_line_break_holder] -->
Dealing with Construction:
Tips and Tricks for a Less Stressful Kitchen Remodel
Kitchen remodels are notorious for adding stress to homeowners' lives- workers going in and out of the house, dust everywhere, inaccessible kitchen appliances, and not having everything in its usual place. Some homeowners may think there's no way to get around the chaos, but in reality, by planning ahead and communicating with your design team, you can minimize the disarray and sail through your kitchen remodel with the least amount of anxiety possible.
Here are Drury's kitchen remodeling tips:
Minimize the number of people you work with
If you hire many different trades and companies that don't normally work together, you run the risk of acting as the general contractor yourself- which can be a lot more work than you bargained for. Instead, look for a design company that takes care of the process from start to finish. You want a general contractor who will manage various work teams so that you get high-quality work that is delivered on schedule, and choosing a design company that gives you a full-service renovation will ease your stress during your kitchen remodel.
Have a clear plan for your remodel and your materials
Stay away from planning and ordering materials as your kitchen renovation goes on, and instead, plan your full renovation before it begins. Make sure you speak with your general contractor and design team about the plan for materials- when they'll be ordered, when they'll arrive, where they'll be stored, who will verify that the materials are not damaged or missing any parts, and what will happen if anything needs to be reordered.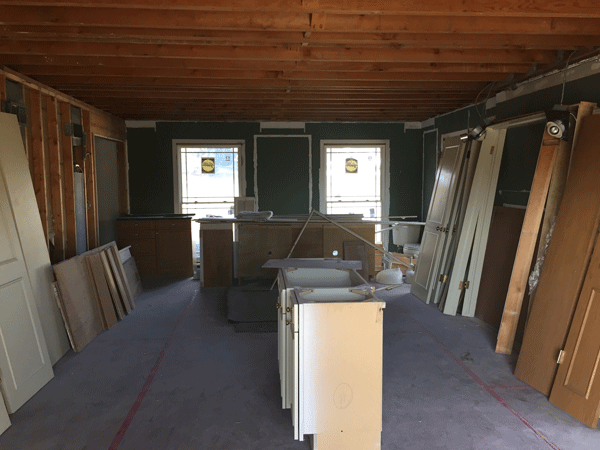 For example, your kitchen cabinets will be delivered to your house before construction starts. Kitchen cabinets, whether they are custom kitchen cabinets or semi-custom cabinets, are usually stored in the garage or an adjacent room, so make sure you have enough space for them before they are delivered.
If you wait until something goes wrong, your kitchen remodel might hit a rough spot. It's much better to plan ahead for your renovation and pre-stage your materials as much as possible.
Set up a temporary kitchen
At Drury, our design team and project manager will help you set up a temporary kitchen. The most effective way to set up an alternate kitchen is by moving your refrigerator and microwave to an area sectioned off by plastic, and you will also want to look into putting a table, a hot plate, and a coffee maker in that same area. We also recommend keeping your outdoor grill accessible if possible.
Keep an open line of communication with your project manager
Ask for your general contractor's work phone, cell phone, and e-mail, and be sure to tell them which method you prefer to communicate with. Maintain an open line of communication from the very beginning of your project so that it becomes a habit between you and your general contractor; you may suggest a regular check-in call or e-mail so that you're updated throughout the renovation.
With proper planning, communication, organization, and a detailed schedule outlining what is happening each day, your kitchen remodel can go smoothly. We believe that a kitchen remodel doesn't need to be stressful, and at Drury Design, we'll work with you to ensure that your kitchen redesign delivers you the high-quality kitchen you're dreaming of.