History Repeats Itself: A Look at Classic White Kitchens Throughout the Ages
With President's Day stamped on today's calendar page, at Drury Design, we started thinking about how history repeats itself- especially when it comes to white kitchens, a classic kitchen design that's stood the test of time.
If we take a quick look at the history of kitchen design, we will realize that white kitchens started almost a century ago, featuring those big white farmhouse sinks that, at the time, were considered the best part of the house. The farmhouse sinks were so valued that they were almost a symbol of social status. As time passed by, white subway tiles were installed and the idea emerged that a kitchen should be white as the color white relates to cleanness. During the 50's, color was introduced to the world of kitchens and, a few decades after using color, the white kitchen trend returned, this time with formica. I still remember some of those white kitchens to this day.
The outdated white kitchen pictured here shows just how far we've come in kitchen design.
Today, when we look at a white kitchen, we look at a kitchen that will not only be stunning, classic and timeless, but also functional. We think of cabinet styles, molding, hardware, wood finishes, backslashes, countertop, appliances, and everything in between. It's a whole new approach when compared to the first white kitchen ever designed.
Contrary to what many individuals think, a timeless kitchen doesn't have to be extremely ornate. In fact, the crown molding and trim you will find in such kitchens has a purpose of finishing the cabinets off and adding some interest to the space while enhancing the home's architectural features. Overall, trims and moldings of a timeless kitchen have a more classic profile, with simple, yet classic, lines.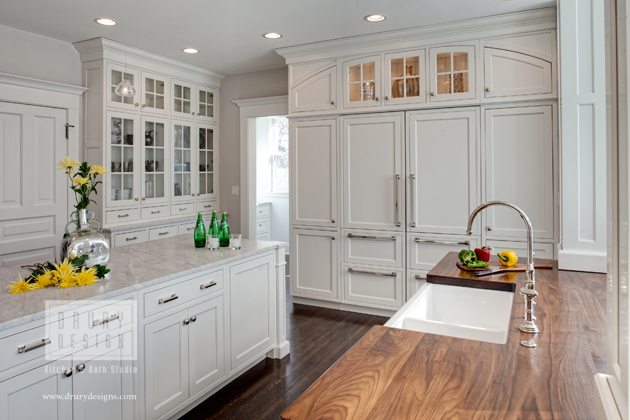 A traditional kitchen by Drury Design with white cabinets, white walls, and white ceilings.
Taking a closer look at the cabinetry, it is possible to notice the details and the craftsmanship level of the recessed panels — many times, those cabinets will have a single recessed panel resembling the shaker style. The overall look is smooth to the touch and appealing to the eye, as the majority of those cabinets will have a nice satin finish and/or some nice glazing on it. As with any other timeless kitchen, the white cabinets will also have a certain amount of glass door cabinetry where you can showcase some of your most valuable items.
A traditional kitchen designed by Drury Design featuring white subway tile, white cabinets, and a white ceiling.
Besides protecting the walls and surroundings from water, the backsplash is a place where imagination can flourish. Regardless of whether it is a nice subway tile, a Bisazza mosaic, or a slab of granite, the backsplash reflects your personality. Although for a long period of time we used to have a 4 in. backsplash, today's trend in backsplash is similar to the one when used on the first kitchens from the early 1920's, which goes all the way from the top of your countertop up to the bottom of your wall cabinet or ceiling, depending on the design of your kitchen. It gives your kitchen a clean, yet stunning, look.
History may repeat itself, but that doesn't mean it's boring or outdated. While at first thought, a remodeled kitchen with primarily white features may seem plain and simple, it's actually a stunning, clean-looking design that will brighten your home and last through the ages.