The Benefits of Hiring a Professional Kitchen Designer
The Benefits of Hiring a Professional Kitchen Designer
These days, the abundance of Pinterest projects and interior design blogs make it seem like anyone can single handedly start and finish their own kitchen remodeling project.
Ambitious homeowners may see tantalizing kitchen remodel pictures and think, "I can do that myself!" While there may be certain aspects of a kitchen remodel you can have a hand in, the reality of the situation is that you're going to need help with your kitchen remodel.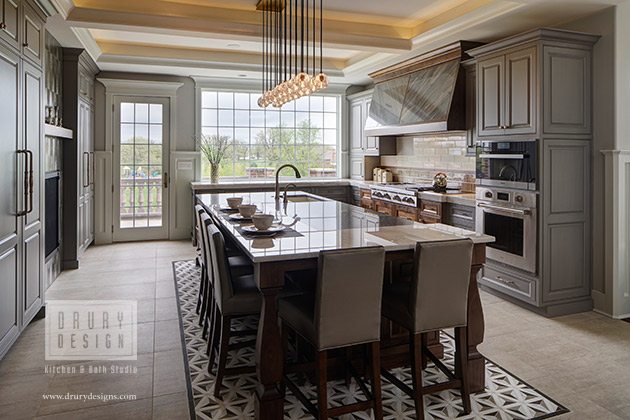 Think of it this way: attempting a kitchen remodel without a professional designer is like going to the dentist and saying, "Okay, I need a tooth pulled, so if you can do the actual pulling, I'll line up the hygienists and the assistants and the tools, and I'll schedule the time and reserve the room in your office." It's an impossible situation!
Instead, you can save yourself time and stress by hiring a professional designer. There are endless reasons why having a pro on your side is the way to go. But, we've put together the three biggest advantages to hiring a professional designer for your kitchen redesign:
1st Reason
First, it takes the general contractor responsibility off of the homeowner. You won't be responsible for finding and talking with vendors and contractors, accepting a myriad of deliveries, scheduling tradespeople, or any of the other issues that professional designers are used to managing. They have longstanding working relationships with manufacturers, suppliers, and tradespeople that a homeowner will never have. They'll also be responsible for the completion of your project and any punch lists– the list of minor tasks that need to be finished towards the end of the project to wrap it up and finish on a timely basis.
2nd Reason
Second, a professional designer will make sure that you're going to get the best long-lasting value from your remodeled kitchen, in terms of aesthetics, function, and style. Your designer is an interior architect of sorts, so they will help you avoid expensive mistakes and misgivings by exploring all of the options and coming up with the best combination of floor plan, design, and materials.  They'll have your best interests at heart and help you determine how to make the space function and look as you had hoped – with no guesswork, just a bit of your input and faith.  And, they know the real estate marketplace and what types of design and products that stand the test of time in terms of resale value.
3rd Reason
Your designer will help you make sure that the products you're getting and the materials you're using are the best for your investment, helping you sort through your ideas and goals and come up with the perfect plan and execution based on expert information and informed decisions.  They will have you fill out a design questionnaire and will be able to fully understand what's most important and what's not for your specific project. If you're redesigning your kitchen on a budget (and who isn't?), your designer can guide you through all of the options and make recommendations in a series of meetings and keep it all prioritized and organized for you – making it a less stressful and worrisome endeavor.  Sure, you can splurge here and there if you wish, but knowing what will provide the best bang for your buck can keep the costs down, yet still make your new kitchen look like a million bucks.
4th Reason
On the flip side, running your own kitchen renovation has several disadvantages that may have you thinking twice. For example, as mentioned above, you'll have to act as your own general contractor. You'll have to be available at all times during the installation and will bear the brunt of scheduling and overseeing the work, and solving any problems in real-time. It's a full-time job and an enormous amount of work for one individual to learn on the fly.  Besides, what is your time worth?
You may also be at a loss in communicating with the installers or if there is a problem. Kitchen designers are well-versed in how contractors think because they're used to working closely together, as many have long-standing relationship with their crews.  Homeowners, on the other hand, may not know all the nuances of construction and engineering requirements for a job.
5th Reason
Finally, your kitchen remodeling process will probably last twice as long as it needs to without help from a professional kitchen designer- every homeowner's worst nightmare! The homeowner will have to coordinate all the scheduling, get the plumber in when the electrician isn't there, figure out how long the flooring will have to cure before the cabinets can be installed- it's a headache, and the process will end up being far longer, more confusing, and a very painful memory if it does not go as you had hoped.
The bottom line is that you can't underestimate the complexity of a kitchen remodel- it's a lot to do! Instead of stressing and spending all of your time and money hoping it goes as you had planned, hire the professionals and let them do what they're best at!
Thinking about remodeling your kitchen? Download our free ebook and learn the 5 Must Ask Questions Before Remodeling Your Kitchen.