The Truth About Home Remodeling TV Shows
<!-- Go to www.addthis.com/dashboard to customize your tools --><!-- [et_pb_line_break_holder] --></p><!-- [et_pb_line_break_holder] --><div class="addthis_inline_share_toolbox"></div><!-- [et_pb_line_break_holder] -->
Ah . . . the beauty of home remodeling TV shows. It seems like a fantasy, doesn't it?
All you have to do is open your house to a designer and a TV crew and your kitchen will be demolished, built and installed in the time it takes to bake a cake. Of course, there's still time for commercials.
Home Remodeling Contracting TV Shows and Real-Life Projects
Like you, our design team enjoys watching home makeover shows. Who doesn't love a good before and after story? We matched a few of our favorite shows with Drury Design projects that fit the TV show's concept. Which shows are on your DVR?
Starring original show host Bob Villa, This Old House on PBS pioneered the home remodeling TV show trend way, way back in 1979. We've been modernizing historic kitchens for almost as long. Here's the back story on an old, historic home renovation in Hinsdale.
Over on HGTV's Property Brothers, Jonathan and Drew Scott help homeowners find, buy, remodel and transform extreme fixer-uppers into dream homes. Two of many recurring design themes: the open concept and a sizable entertaining space. Here's an open kitchen concept project in Barrington that flows into the family room for plenty of extra entertaining space.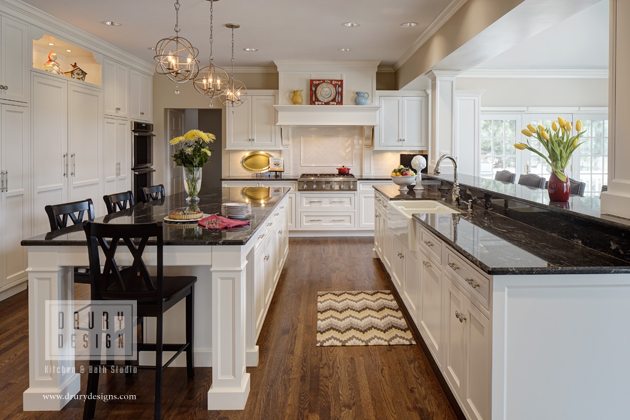 Chip and Joanna Gaines, HGTV's Fixer Upper show hosts, turn ugly duckling houses into showplaces that can upgrade the whole neighborhood in towns around central Texas. We know how exciting it is to revive homes from forgotten to fabulous.
One of our current projects, a former foreclosure home in Oak Brook that featured a Drury Design kitchen from decades ago, had long ago lost its luster. Our clients, the new homeowners, are working to return the home to its original show-stopper status. We can't wait to share this homes before and after story with you!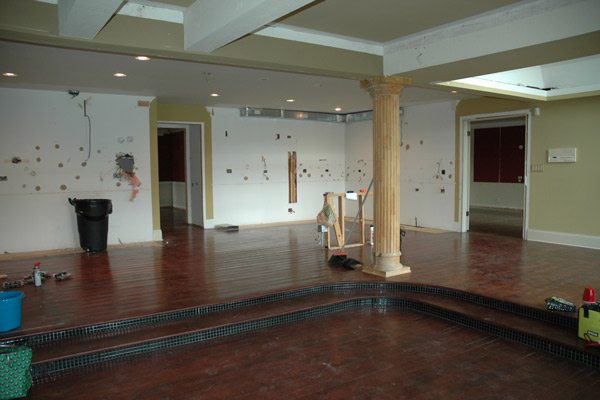 October 2016
November 2017
Ever wondered: Should we stay and improve or move on? Watching Love it or List It with interior designer Hilary Farr and real estate agent David Visentin gives you a feel for what homeowners go through when weighing the decision to renovate or sell.
With a complimentary in-home interior design consultation, we can walk you through what it would take to work with what you have right now. If you decide you love your location, we'll show you how to realize your home's potential. Still want to list it? We'll be waiting for you with ideas for your next property.
---
The Drury Design Difference: Client-Focused Design™
While the onscreen home remodeling projects are – seriously – made for TV, here's the reality of how Drury Design completes our IRL projects. We asked Diana Burton, a Drury Design team member and a big home remodeling show fan to walk you through our process.
The biggest difference is in the design process.
Our six-step collaborative Client-Focused Design™ process usually takes about eight weeks, depending on the scope of the project, and frames the perfect project with a precision pricing investment.
It all starts with getting to know you and your design style. We'll invite you to show us around your home. And, we'll ask you to complete a design questionnaire that will highlight your priorities. After reviewing your answers together, our team will begin drafting drawings.
About two weeks later, you'll preview our initial ideas as rough concepts. It's a very collaborative meeting where we discuss the pros and cons of each layout and decide which is the best plan for your investment. From there, we move on to selecting materials and then reviewing elevation drawings.
We'll order cabinetry, counters, tile, fixtures, plumbing, appliances and any other flourishes and have them in our warehouse waiting to go within two weeks prior to your start date. The only time a change happens on the fly is if something we selected is back-ordered. For example, we may need to use a different tile. Your custom kitchen cabinets will be built to order with your door style, finish, and according to the plans we specify.
On TV, you might see homeowners swinging sledgehammers and assisting with other construction jobs. As a Drury Design client, your only task will be cleaning out your refrigerator and cabinetry. Our professional home remodeling construction crew will take over everything else – and clean up every day. You can sit back, watch and take pictures and videos if you like.
Ready to discover your home's untapped design potential? Contact us to schedule your complimentary in-home design consultation today. We can't wait to meet you!!