Why do I need a kitchen designer?
<!-- Go to www.addthis.com/dashboard to customize your tools --><!-- [et_pb_line_break_holder] --></p><!-- [et_pb_line_break_holder] --><div class="addthis_inline_share_toolbox"></div><!-- [et_pb_line_break_holder] -->
Why hire a Chicago kitchen designer?
A professional kitchen designer does more than help you make design decisions, they also help manage the project from start to finish to ensure a timely completion. Their design education, ongoing training, practical experience, and knowledge will help you avoid unnecessary costly mistakes, installation delays, and the frustration these problems create.
If you're considering a kitchen remodel, you may be tempted to do it alone by thinking you can manage it by yourself with the help of various suppliers and tradesman. Don't be fooled. There is a lot to designing and remodeling a kitchen and the best results are achieved by relying on expert professional help to bring it all together.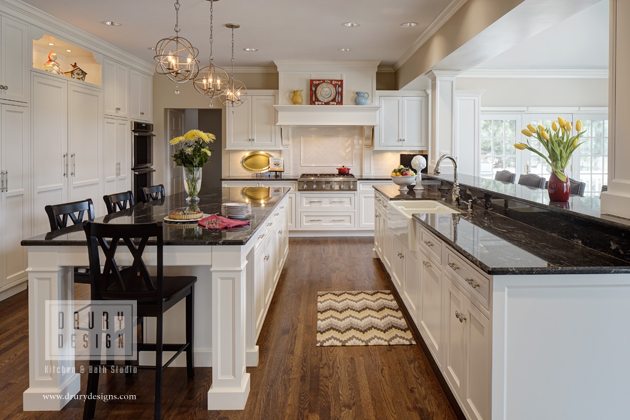 A professional kitchen designer will help you make sense of the many options you'll face during the planning and actual remodeling process and help you avoid costly mistakes and do-overs. A professional kitchen designer does more than help you make design decisions and select new cabinetry; they also help manage the project from start to finish ensuring a successful completion.
So, what exactly are the kitchen designer's duties?
Here is a general list of what a professional kitchen designer does for their clients:
1 – Determine the best floor plan for the existing space based on your lifestyle and tastes by exploring a multitude of options.
2 – Ensure a logical traffic pattern for your family dynamics.
3 – Help you establish a reasonable budget based on what you wish to accomplish including information about the return on investment of remodeling.
4 – Educate and advise you in selecting the most appropriate and latest in appliances, fixtures, and design elements to fit into your budget while helping to define your home's style.
5 – Make sure that everything works together by engineering all of the materials and components for fit and function.
6 – Gather quotes and alternatives for items to ensure you get the best value and design.
7 – Set up a timeline based on the installation requirements (i.e., when to order cabinets, counter tops, etc., scheduling tile installers, floor re-finishers, etc.), so that you have the best experience possible.
8 – Be available throughout the installation process and assisting with any hiccups along the way.
9 – Add finishing touches to make your new kitchen really swing that might otherwise be easily overlooked.
Hopefully, this has illustrated a number of important services and responsibilities a professional kitchen designer provides to help their clients. The number of details can be daunting. This should and can be a fun process with the right help. Just think, if we didn't do it, you would have to!
So where do you go to find a professional Chicago kitchen designer?
There are many resources to begin your search including the National Kitchen and Bath Association's website at www.nkba.org, and other sites like www.hgtv.com. These sources will provide lists of area designers and show you examples of beautiful designs by their associated design firms. And, when selecting a designer, insist that they have years of experience in remodeling and new construction techniques and requirements as well as design expertise. And, be sure he/she has a portfolio and the references to back it up.
Of course, having said all this, one of the surest options is to contact the professional design staff at Drury Design. We've completed 1,000's of area kitchens and can help in every way – including coming to your home just to talk!  To learn more about our full-service Client-Focused design process go to the 'Our Process' page on this site, click here to make an appointment, or call us at 630.469.4980.