Elements of Transitional Kitchen Design
Transitional kitchen designs can help bring your unique ideas to life in an elegant way. This style allows you to blend traditional and contemporary looks without the fear of creating an unsavory contrast. Instead, the designs, colors, and textures come together to inspire earth-colored beauty and uplift your personal style.
"Transitional design offers the best of both worlds, blending the textures of traditional with the sleekness of contemporary design," says Gail Drury, CMKBD. "For kitchens, think geometric, clean and practical lines for the countertops, cabinetry, crown molding, and other crafted elements."
Drury says non-fussy is a key element of transitional kitchens. "Never would you include corbels or ornate appliques or other heavily decorative features typical of traditional kitchens," she explains.
Elements of Transitional Kitchen Design
Though many homeowners may have seen transitional kitchens, they may not recognize the details that configure a transitional kitchen design. Transitional kitchens borrow design elements from traditional and contemporary designs – often blending natural-colored materials with sleek manufactured products. Picture the simple lines of a contemporary kitchen combined with the natural warmth of a traditional kitchen.
A transitional kitchen design provides flexibility – bringing the best of both classic styling and modern elements into one room. The result is an inviting, yet clean look that welcomes your guests, providing a comfortable, classy environment for entertaining.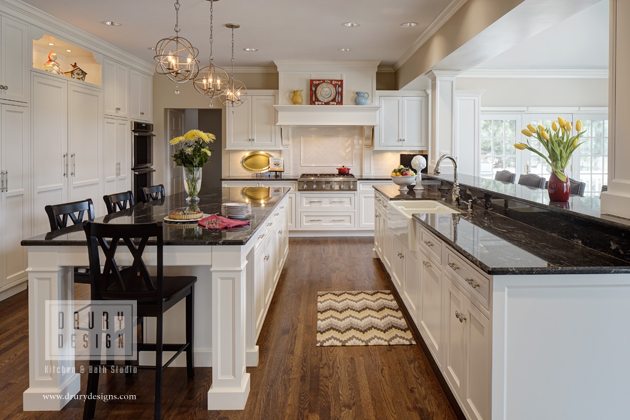 Appliances:
Appliances are usually stainless steel but mimic the cabinetry by adding panel fronts to kitchen appliances to create continuity throughout the kitchen without a visual break.
White kitchens with stainless steel appliances are still king – with frequently contrasting island and perimeter cabinetry. Also, expect to find fully-integrated French-door refrigerators in transitional kitchens. Very popular designs also include either be an induction cooktop along with a wall oven and microwave, or a dual-fuel or gas range. Updraft hoods and standard-door dishwashers are other staples in transitional style designs.
Countertops & Backsplashes:
Natural stone is the perfect element for a transitional kitchen surface. Choosing marble, granite, or limestone for your countertops and backsplashes will add warmth to your space. However, choose stone and tile designs and countertop edges that aren't too ornate, and steer clear of busy, contrasting listels and medallions that could interrupt the design flow.
Other popular features that define transitional kitchens include quartz and quartzite. Subway tile for your backsplash is still a favorite, but mosaics and glass tile in a variety of sizes work great with transitional style designs, too.
Cabinets:
The kitchen cabinets in a transitional kitchen will have a minimalist style to them with simple lines and minimalist hardware or no hardware at all. Crisp cabinetry is typically the most common. Transitional kitchen cabinets have a streamlined profile that falls just short of modern. Generally made of wood rather than a contemporary material such as lacquer, they sport simple paneled doors and sleek hardware.
Flooring & Natural Surfaces:
Floors can be wood, tile, or other natural materials like bamboo in a transitional kitchen. Granite, marble, limestone, and other natural countertops that pair with a kitchen island, and flooring materials are versatile enough to fit into either traditional or contemporary style. So, it makes sense that they're a perfect fit for transitional style kitchens. Just steer clear of elaborate edge treatments on countertops or other flourishes that would look too ornate.
Colors:
Transitional colors are most often neutral – they can be light or dark, but they reflect the colors typically found in nature. A simple color scheme a lot of contrast often defines transitional design.
Accents:
Transitional does not mean plain. Accents and embellishments are welcome in a transitional kitchen but should reflect the clean lines and color scheme of the design. Accents can incorporate different textures but should complement, not clutter.
Keep an eye out for the elements of every design that pleases you. Our professional designers at Drury Design will combine your favorites into a transitional kitchen that strikes a pleasing balance between past and present.
The best part of transitional kitchens is the ability to incorporate your favorite elements from traditional and contemporary designs. You can create a space that reflects your personality – a little more modern for some, a little more traditional for others. As a homeowner, you may have already collected images of transitional kitchens in your inspirational folder without realizing it. Our professional designers at Drury Design will combine your favorites into a transitional kitchen that strikes a pleasing balance between past and present.
Free Kitchen Design Guide Download
If you're planning a transitional kitchen remodel, download our free kitchen design guide to learn about the renovation process.