High End Kitchen Appliances in Luxury Kitchen Desgin
Kitchen Appliances Turn a Room into a Kitchen
Designing a luxury kitchen requires creating a cohesive design combining beauty and function, efficiency, and style.
Whether you're working with an existing kitchen layout for which you need replacement appliances, remodeling to change your current design, or creating your dream kitchen as part of a new kitchen renovation project, the layout of your kitchen dictates a lot about the appliances you'll need to purchase. Be sure to consider how you use your kitchen and the flow and traffic patterns it creates with adjoining rooms, as well as any architectural or structural constraints. Take a look at Understanding Kitchen Layouts for tips and insights on space planning — the layout you choose can either enhance or limit the types and sizes of appliances that can be accommodated. And be aware that you may have to make some compromises.
The budget you establish for your new kitchen will greatly influence the appliances you select, so it needs to be realistic for the size and scope of your project. And, as you choose appliances, be sure you or your designer prioritizes this established budget and function over aesthetics. For example, commercial-style appliances that are not correctly proportioned for your kitchen layout may offer the look you want but end up requiring budget-straining structural modifications that you didn't anticipate.
FUNCTION AND LIFESTYLE
When planning for your new kitchen, you'll also want to take into consideration your family's lifestyle and design it around the way you live and entertain. Be sure to make notes on not only how you currently use your kitchen but also how you might like to use it in the future. If you like to entertain, consider adding specialty appliances like a warming drawer or ice maker or installing a larger capacity oven. And busy families might want to add a speed cooking oven to save time. Drafting a comprehensive wish list will make it easier to match your needs and wants with appliance features once you start shopping.
Whether on your own or with a design professional, try to visit retailers or nearby design showroom for product demonstrations — there's no substitute for actually using the appliances to determine if they will be a good fit for you ergonomically or for the layout of your kitchen. For example, you may want to consider a range or oven with larger time and temperature displays, depending on the size of your kitchen. Or you may find that certain knobs, buttons, and other tactical features offer greater accessibility.
STYLE AND FINISHES
Once you've established your appliance budget and functional requirements, you can further narrow your choices by selecting the style and finishes that complement your kitchen design. In today's luxury kitchens, stainless steel is the most popular finish option — in addition to being long-lasting and durable, stainless steel's sleek surface is also easy to clean. Another luxury trend is integrating appliances with cabinetry using custom panels. This involves having panels custom made by a cabinet maker according to the manufacturer's specifications.
One advantage of higher-end appliances is that they are often designed with classic lines that coordinate with a variety of kitchen styles. At Monogram, we also offer a further distinction between chef-inspired Professional style and sleek European-style products.
When selecting appliances, you'll also want to consider how their handles, knobs, touchscreens, or illumination add to the overall look you want. If you're struggling with any of these choices, try creating a mood board that integrates all the finishes you're considering to help you visualize how they all work together with the rest of your kitchen space like the countertop, backsplash, and cabinet doors.
While a kitchen cabinet provides the modern kitchen's form, the appliances provide its function. And today that function is going more high-tech as smart technology is added into the mix. Selecting appliance brands that serve their function in style and are ahead of the curve in innovation is key.
Juanita Galliford, of Thermador, shared that her company has been at the forefront of kitchen innovation since its founding in 1916. It invented the wall oven and cooktop combination and was the first to introduce stainless steel. And in 1948 it brought the first professional-quality and performance ranges to the homeowner, followed by the first self-cleaning oven in the 60s. When it comes to luxury kitchen appliance innovation, she said, "Thermador has led while other brands have followed."
On the cutting edge of cooking technology, today is the steam/convection oven. The steam oven is one of the healthiest ways to cook a meal. Traditional ovens pull moisture out of the food as it cooks, while in a steam oven food is cooked in its own juices, enhancing flavor and retaining nutrients. It is also super-fast, allowing a 14 lb. turkey to cook in only 90 minutes.
And in the modern luxury kitchen, the refrigerator has taken on a new role as the "culinary preservation center," refrigerators are no longer just about preservation. Today's homeowner wants personalization allowing them to customize the line up of cold storage combinations that give them exactly the cold storage solutions they desire. So a modular concept paired with a modular kitchen design allows the homeowner to pick fresh food stores, freezer, and wine storage combinations right for their needs.
From Sink and Faucet to Water Appliance
And perhaps the most overlooked, yet most critical function in the kitchen is the faucet and sink, which ROHL has redefined as the water appliance. "The most used appliance in the kitchen is actually the faucet/sink combination," said Greg Rohl. "A family of four uses their water appliance 20-30 times a day. We encourage designers to think about reallocating budgets towards this most heavily used 'appliance' allowing clients to spend more for better quality and more attractive solutions."
To discover the water appliance faucets, fixtures and fittings that meet 21st century needs in quality, style and function, ROHL canvases the world to find products that meet the luxury homeowners' needs, like the innovative Pull-Out Kitchen Faucet, which founder Ken Rohl discovered in Europe in 1983 and which became the flagship product for the ROHL brand.
Through close collaborations with its worldwide partners, ROHL finds it critical to maintain authenticity in time-honored material and craft while adapting to modern needs. "We work closely with on-staff engineers and industrial designers to incorporate low-lead material requirements, meet California water-use and flow restrictions and IAPMO and EPA WaterSense criteria without compromise," Rohl noted.
The Luxury Kitchen of Tomorrow Today
Designing the kitchen of tomorrow today requires bringing many separate components provided by a variety of suppliers with unique expertise together into a cohesive kitchen package that combines beauty and function, efficiency, and style. "Traditional kitchen design configurations with upper cabinets and lower cabinets are often being replaced by a full-on kitchen island – grounded by larger sinks, faucets, and accompanying accessories. "Today, and in the future, the multi-function sink/faucet combination will continue to be the mainstay of the kitchen, flanked by the cooking and cold storage appliances, and installed with beautiful, architectural cabinetry that defines the kitchen's style," says Gail Drury, CMKBD.
The kitchen's place of presence in the home is without a doubt. Yet its form and function continue to evolve with technology, product, and design innovations. 
Kitchen Appliances Turn a Room into a Kitchen
Perhaps more than any other design element, appliances put the chef's cooking style on display. Going beyond the holy trinity of range, refrigerator, and dishwasher, appliance options can be overwhelming.
Did you know Drury Design is an authorized dealer for leading manufacturers like Sub-Zero, Wolf, Viking, Thermador, Dacor, Fisher & Paykel, Miele, and Bosch? We partner with these companies to increase our reach every day. We know the difference when we companies very closely and our designers are experts in the latest technology on the market. Sub-Zero Wolf honored our work with a kitchen design award. We asked designer Diana Burton for her take on must-have high appliances in a luxury kitchen design.
Interview With a Kitchen Designer
Question: What are the must-have appliances in a luxury kitchen?
This really depends on the specific needs of the client. We want to know: Are they avid cooks? Do they entertain frequently? When they entertain is it at sit down dinner parties, or casual family gatherings?
Dedicated wine storage and a steam oven are two nice additions to a luxury kitchen appliance package. A second dishwasher for families who have large gatherings is also a smart choice
Question: When is it better to choose a high-end luxury appliance?
The selection depends a lot on the overall budget. But, what seems like a splurge could actually be a wise investment. For example, high-end refrigerators like Sub-Zero tend to last 18 to 20 years versus 10 years for a standard version.
Question: How do luxury kitchen appliances contribute to the design – or do they? 
In terms of luxury products, there seem to be two main designs. The kitchen appliances are either stainless steel or hidden behind cabinets for a more integrated approach. In addition, built-in wine coolers certainly up the cool factor, as do refrigerator columns, and some ranges are show-stoppers.
Question: What appliances would be in your dream luxury kitchen?
In my dream kitchen remodel, there would be a 48" pro refrigerator with a glass door, 48" range top with a double griddle, a wall oven, a steam oven, and a wine fridge for sure! Here are a few of the most recent innovations.
High-End Kitchen Appliance Innovations
Dacor's iQ Controller makes cooking more convenient – and customized. Its integrated touchscreen tablet with Wifi capability has many cool features: Guided Cooking, Quick Start, GreenClean™ and My Modes for favorite dishes. Learn more about Dacor.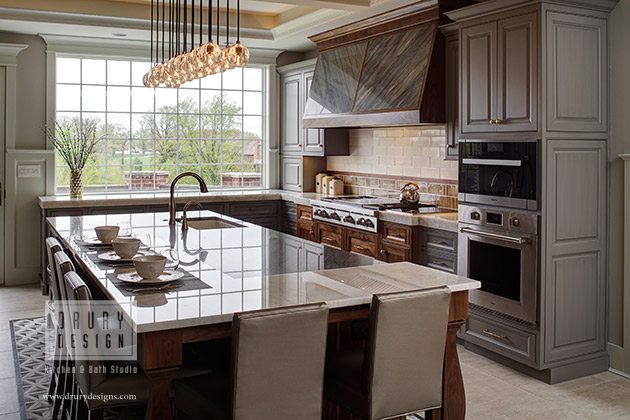 A three-in-one appliance, you can use convection cooking technology, steam cooking technology and a combination of both technologies at once. The XXL Combi-Steam oven is 41% larger than the XL unit and comes with a total of four shelf levels as well as a wireless roast probe for precise temperature control. Learn more about Miele.
Sub-Zero wine preservation units chill and protect wine from heat, humidity, vibration, and light. Choose from 18″ to 30″ widths, with 46 to 147 bottle capacity, and add the character of wine to any room. Learn more about Sub-Zero.
Thermador's portfolio of custom panel models – available in 18″, 24", 30" and 36" widths –  allow you to configure your own unique combination of bottom freezers, fresh food, freezer and wine preservation columns. Learn more about Thermador.
Clean dishes between courses with the industry's fastest cycle – StarSpeed – in just 20 minutes. A new Entertainer's Drawer is a completely customizable third rack. Other features include Star Glow, an interior lighting option, and a special wine glass caddy.
Getting Started with Your Luxury Kitchen Design
If you're ready to consider an update or kitchen remodel, visit our gallery on Houzz.com to explore ideas. Then, talk to Drury Design about how high-end appliances will work in your luxury kitchen design. You can also stop by the studio anytime to browse our appliance selection. Remember, our in-home consultations are always free. Call us at 888.444.1055 to get started.